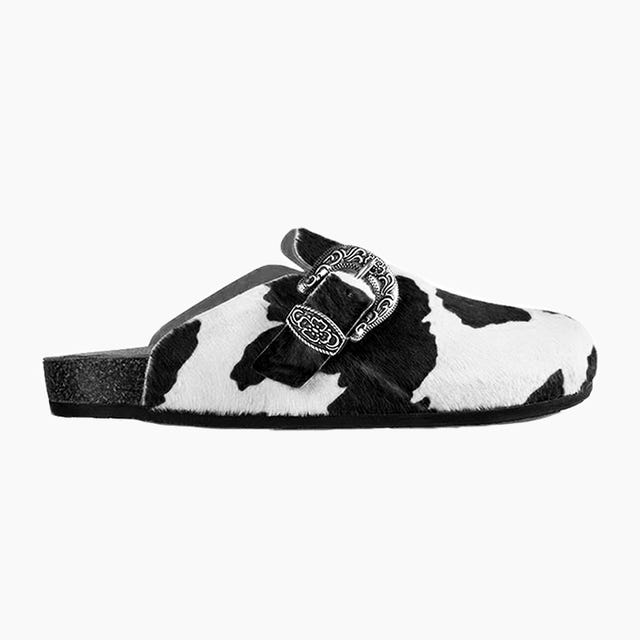 Courtesy
She DMs the best memes before they hit mainstream, introduced you to White Claw, and was there Zoomed you every day during quarantine. In short: Your girl is your best friend and she deserves the best gift. Whether she lives that plant mom life or is interested in plants more… relaxing, so to speak, we found gifts for every kind of BFF. Shop ahead for 33 gifts she'll absolutely love.
1 of 33
Transcendent Kingdom
By Yaa Gyasi
bookshop.org
$25.71
It's a gift for you too, because you'll definitely be borrowing this book after they're done. 
2 of 33
Dior Oblique Square Scarf
A 2-in-one gift that can be worn as a scarf or a top. 
3 of 33
Hyper Real Lace u0026 Vinyl Cupless Corset
What can you say? You know their taste in lingerie. 
4 of 33
The Zulu Eyeshadow Palette
Juvia's Place
ulta.com
$20.00
Their blending skills are unparalleled. 
5 of 33
The Drape Trench
Everlane
everlane.com
$148.00
End their search for the perfect trench coat.
6 of 33
Goose-Down Puffer Jacket
Aritzia's Super Puffer coats have a rep for being the best winter down jackets ever. Gift her one in an unexpected color. 
7 of 33
Urban Outfitters Boob Hook
Urban Outfitters
urbanoutfitters.com
$12.00
We all have that one friend who loves boob merch. 
8 of 33
Seeing Stars
Anthropologie
anthropologie.com
$11.99
Your signs are compatible. 
9 of 33
When Sh*t Gets Deep, I Got You Art Print
by Justina Blakeney
jungalow.com
$40.00
Only you know what kind of art she'd hang on her walls. 
10 of 33
Carrera White Marble Scented Candle
Gilded Body
gildedbody.com
$68.00
This gift is best for names that start with 'G.'
11 of 33
Classic Short II
We'll all be living in UGGs this winter. Get her a pair in lavender. 
12 of 33
Logo Belt – Oxblood
These Telfar belts haven't dropped yet, but make sure to keep an eye on them. They're sure to sell out just as quickly as the brand's cult-favorite bags. 
13 of 33
The Duo
Starface
starface.world
$28.90
14 of 33
Coloured x H33M "DON'T ASK ME FOR" Crew Neck Sweater
colouredpublishing.press
$65.00
You're going to assume that this sweater was inspired by your BFF. 
15 of 33
Greg Shoe
Brother Vellies
brothervellies.com
$395.00
Give your favorite heffer a pair of on-trend mules. 
16 of 33
Waterfall Coupe Glasses, Set of 4
Anthropologie
anthropologie.com
$64.00
You two outgrew drinking Korbel in mugs years ago. 
17 of 33
The Rihanna Book
Phaidon Press
amazon.com
$150.00
$100.88 (33% off)
Obviously she wants this. 
18 of 33
Sarcastic 9 Ball
Ridley's
amazon.com
$19.99
Magic 8 Balls exist, but this one speaks her language. 
19 of 33
Blast From the Past Photo Album
Printworks
bloomingdales.com
$31.87
Fill this up with all of her embarassing memories caught on film. 
20 of 33
Explorian Series E310 Blender
Vitamix
target.com
$349.99
21 of 33
Rainbow Pom Knit Dog Sweater
Lovethybeast
nordstrom.com
$48.00
Her dog will hate this, but she will love it. 
22 of 33
Zodiac Pendant
The Last Line
thisisthelast.com
$299.00
She's such a cancer, she's probably cry when you give her this. 
23 of 33
Elago Charging Hub
"Where's my phone" shall never be uttered again.  
24 of 33
Let That Sh*t Go
by Monica Sweeney
amazon.com
She can use a little peace of mind. 
25 of 33
Mondrian Vase
And suddenly, bodega flowers are high art. 
26 of 33
Back Me Up Mobile Charger
She loves you enough to always pencil you in.
27 of 33
Del Mar Pipe
The Pursuits of Happiness
shop-tetra.com
$85.00
She can tell her parents that this is just a sculpture…. with a hole in it. 
28 of 33
Enameled Cast Iron Dutch Oven
Lodge
amazon.com
The two of you can spend all winter perfecting your butternut squash soup recipe. 
29 of 33
Kombucha + 11% AHA Exfoliation Power Toner
Youth to the People
nordstrom.com
$38.00
Someone has to test out this Kombucha toner, and it's not going to be you. 
30 of 33
14-karat gold rose quartz hoop earrings
Loren Stewart
net-a-porter.com
$250.00
These are the kind of earrings—delicate, neutral, cool—she'll wear every day.  
Advertisement – Continue Reading Below
This content is created and maintained by a third party, and imported onto this page to help users provide their email addresses. You may be able to find more information about this and similar content at piano.io