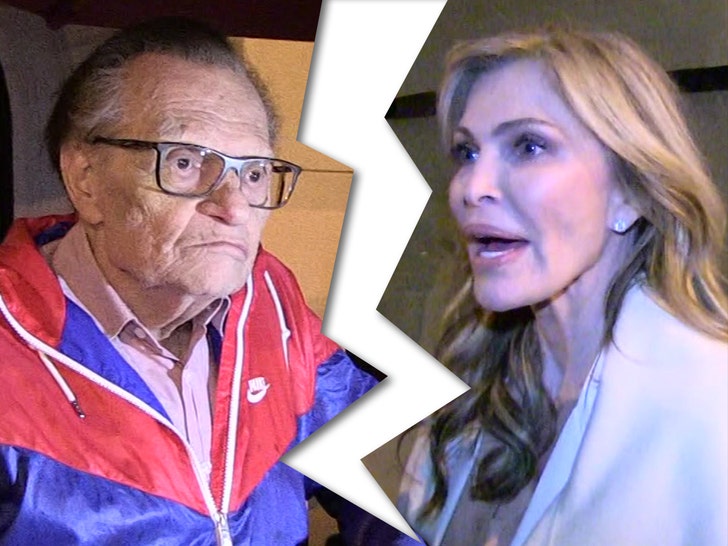 Exclusive Details
TMZ.com
1:51 PM PT — Sources connected to the couple tell TMZ … they have been having marital trouble for several years now. Larry has accused Shawn of infidelity. We're told that has created tension for a while now, but the breaking point was when Larry was in the hospital a couple months ago.
Sources say Shawn presented him with legal documents that would have given her certain rights to their property that would adversely affect the couple's 2 sons. We're told they felt she was trying to screw them out of their inheritance.
We're told the boys went to Larry and told him they were outraged by their mother's conduct — presenting the documents — and pled with him to get out of the marriage. We're told he followed their advice.
Larry filed divorce docs Tuesday in L.A. Superior Court … pulling the plug on his 22-year marriage to Shawn. The couple does not have any minor children — their 2 sons, Cannon and Chance … are 19 and 20 years old, respectively.
They've been down this road at least once before. In 2010, the former CNN host filed for divorce, and it was actually a race to the courthouse — Shawn tried to file first, but Larry's legal team was faster on the draw. Didn't matter in the end … he and Shawn eventually reconciled.
They dealt with more marital turmoil in 2016, when they publicly addressed cheating rumors.
This will be 85-year-old Larry's 8th divorce … assuming he goes through with it this time. He married one of his wives, Alene Akins, twice … that was way back in the 1960s.
Lord, he was born a ramblin' man …
Originally Published — 1:21 PM PT