For the first time in The Bachelor's long history, a Bachelorette proposed to one of her suitors.
No, Hannah Brown didn't get down on one knee and propose marriage to Tyler Cameron. The 24-year-old former pageant queen just flirtatiously asked the fan-favorite runner-up if he wanted to grab a drink sometime as a live studio audience and millions of viewers watching the After the Final Rose special, just moments after she confirmed she's no longer with her fiancée Jed Wyatt after it was revealed he went on the show with a girlfriend.
But rather then see a broken Bachelorette crumble after she learned the man she "prayed for" ever since she was little girl wasn't who he pretended to be (and sang about) all season long, Bachelor Nation saw a fully-formed, articulate and confident woman refuse to be the ashes of a wannabe singer-songwriter's failed attempt to use the show and her for a fast pace to fame.
"The Tyler thing was a complete sort of audible, but for her the happy ending was just discovering who she was," Rob Mills, ABC's Senior Vice President, Alternative Series, Specials & Late-Night Programming, told E! News of Hannah's unusual ending. "It was great for Hannah to say, 'No, I'm better and stronger than this.'"
Before asking Tyler out, Hannah made one thing very clear: she's fine without a man, let alone a fiancee.
"I'm really confident in who I am now and being on my own and growing and really taking everything that I've learned and what I want in a next relationship," she said.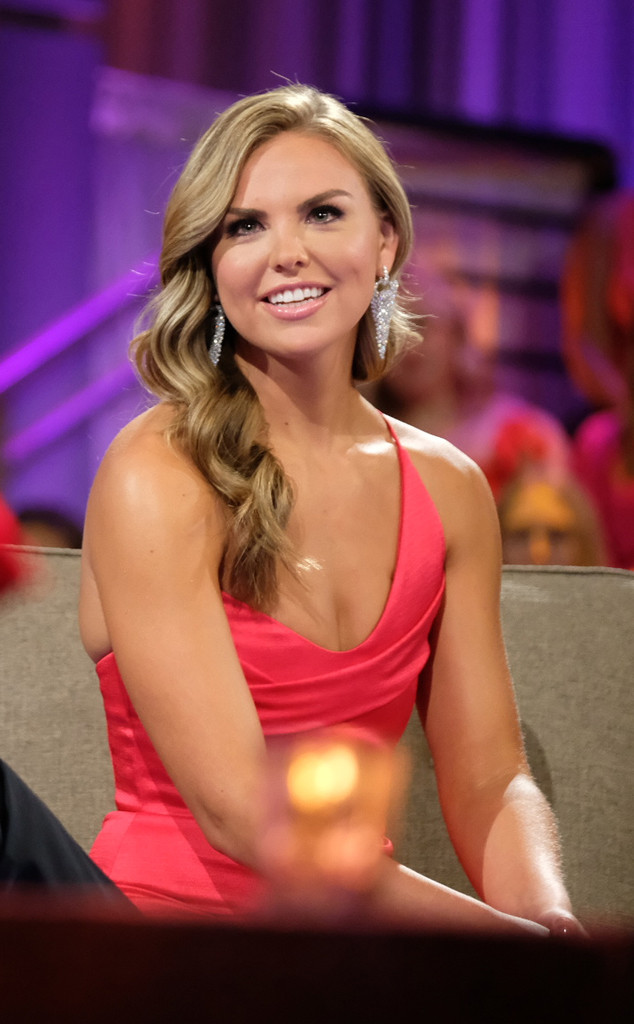 ABC/John Fleenor
Hannah's battle cry of independence and self-worth after a months-long and exhausting war against liars, sex-shamers and f–kboys drew thunderous applause and fueled a thousand think-pieces on her journey of self-discovery throughout the season.
While Hannah had to actually ask the audience to stop clapping when she revealed she was no longer in love with Jed—"that's not something to clap for"—the outpouring of support for the Bachelorette ending her journey solo is in stark contrast to how past Bachelorettes and especially Bachelor seasons have been received when the outcome wasn't a picture-perfect proposal.
"I think it shows how far the show has come," Mills said.
In season five of The Bachelorette, lead Jillian Harris fell hard and fast for Ed Swiderski, who proposed at the end of their journey. But after her season aired, it was reported that he was actually dating multiple women while pursuing Jillian (he left the show for two weeks in order to keep his job) and had even slept with one while he was engaged.
Despite the tabloid turmoil, Jillian stayed with Ed for close to a year, with the Canadian star even re-locating to Chicago to make it work, before the couple called off their engagement in July 2010 after more cheating allegations surfaced.
"I love him and I'm really sad, but I have to look out for me," Jillian told Us Weekly at the time.
While Ed went on to join the cast of Bachelor Pad season three, somewhat redeeming himself with fans, the Bachelorette was left "devastated."
"I was under 90 pounds, I would have to pull over to the side of the road and have anxiety attacks," Jillian recalled to People. There were blogs about me and my relationships. It was crazy."
Fortunately, for many Bachelorettes, the process has worked: six of the 15 leads are still with their final picks; three are married and three are engaged.
When it comes to The Bachelor though, the track record is far less impressive: 4-for-23 (three are married, one is still dating his final pick).
A major factor in that discrepancy between the success rates is the very idea of what a happy ending is "supposed" to look like and what it should really look like, as many former Bachelors have gone on to reveal that they felt the pressure to propose in order to deliver a satisfying ending to their journey.
While the circumstances were admittedly vastly different, it's worth comparing Hannah's unconventional ending to the dramatic conclusions of Arie Luyendyk Jr. (season 22) and Jason Mesnick's (season 13) respective seasons of The Bachelor.
Both men earned the title of most-hated man in America when they revealed after their initial proposals that they had realized they had made a mistake and still had feelings for their runner-up.
During a thrown-together and closed-off taping of After the Final Rose, Jason dropped the bombshell on both Melissa Rycroft, his initial final rose recipient, and Molly Malaney, who had been in talks to be the next Bachelorette before Jason revealed his change of heart. Both women—and 17 million viewers—were blindsided by the beloved single father's admission, which has lived on as one of reality TV's most iconic moments.
By the end of the awkward and tension-filled taping, the future for Jason and Molly was uncertain, as the Bachelor was just "hoping" they could just give it a shot. "See if we can go out for coffee or drink?"
No proposal. No romantic gestures. No promise of anything concrete. Producers, at the time, were less than thrilled with this anti-climactic ending.
"My biggest memory from that still was at the end, Molly and I didn't even know what to expect from each other," Jason said, "and we kind of hugged and Chris Harrison stops filming and goes, 'No, no, no, you guys have got to kiss!' Molly and I were like, 'No! That's a stupid idea.'"
After some back and forth, the not-really-a-couple agreed to have "a little kiss," just to give people something to hold onto.
One televised wedding, two kids and nine years of marriage later, Jason and Molly are one of The Bachelor's rare success stories.
Ditto Arie and his now-wife Lauren Burnham, who he had initially broken up with in the final rose ceremony, choosing to propose to Becca Kufrin. But one month later, Arie blindsided Becca during a scheduled "happy couple weekend," revealing he was in love with Lauren and was planning to ask her for a second chance.
The 40-minute unedited (sometime split-screen) scene played out during the After the Final Rose special, and it was pretty brutal and painful to watch, with some viewers criticizing producers' decision to air it at all.
And it only got more awkward when Arie decided to get down on one knee during the live taping to propose to Lauren, just after Becca, now America's sweetheart, had been unveiled as the next Bachelorette. We'll let you guess which of those major moments received tepid applause.
Chris Harrison congratulated the couple and then said, "I hope this engagement lasts a longer time!"
Well, it actually did, because within a year, Arie and Lauren had gotten married (with Harrison serving as their officiant) and welcomed their first child in May 2019.
So out of 22 Bachelors (23 seasons with Brad Womack serving as the lead twice), only three men have gone on to marry a contestant from their season; just one (Sean Lowe) married their final rose recipient.
The idea of what constitutes a happy or even satisfying ending in The Bachelor franchise has evolved since the first season aired in 2002.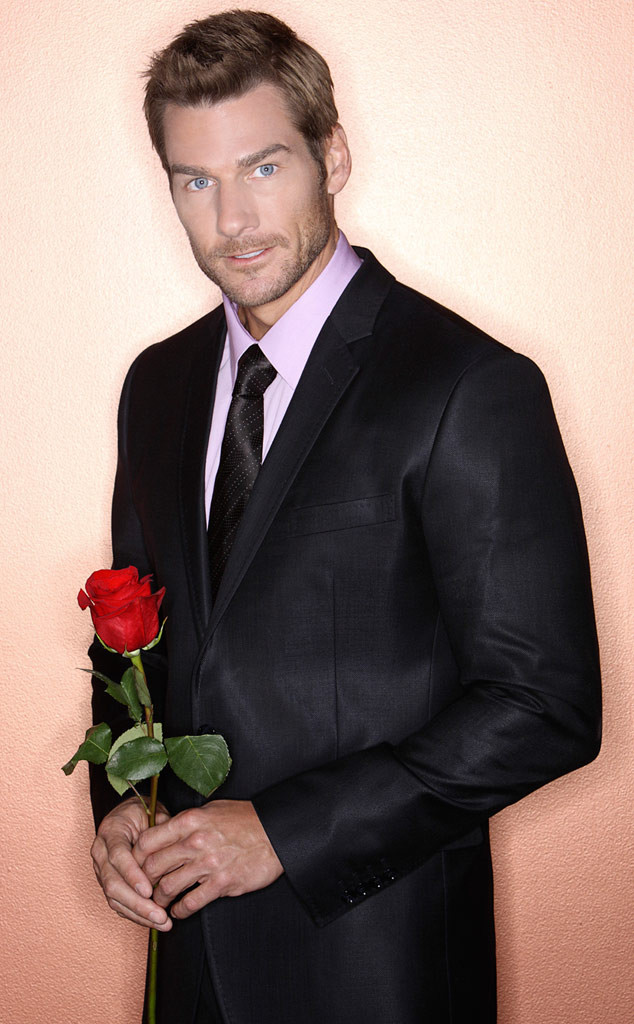 Edward Herrera/ABC
The first man in the franchise to not propose was actually Alex Michel, the inaugural Bachelor himself. Bob Guiney (season four), Jesse Palmer (season five), Charlie O'Connell (season seven) and Lorenzo Borghese (season nine) followed suit, going on to date and eventually break up with their pick.
But then Brad Womack shook things up when he decided not to propose to either of his final two women in season 11, becoming public enemy No. 1. The next six leads? They all proposed—including Jason, who later admitted to E! News that he felt pressure to get down on one knee, despite feeling uncertain.
"I remember back on my show, I told them I wasn't going to propose because it wasn't the right thing…their response back then was like, 'Oh, that's not how it works. We always have a proposal. We've tried it without a proposal,'" Jason recalled in an interview earlier this year.
And the next time the franchise didn't have a proposal proved their point, with season 18 finishing with Juan Pablo Galavis, arguably the least popular Bachelor of all-time, earning backlash for not proposing to his final pick, telling Nikki Ferrell, "I'm not 100 percent sure I want to propose to you, but at the same time I'm 100 percent sure I don't want to let you go." He also said he wasn't ready to tell her he loved her.
The next four leads? They all proposed—including Arie.
"I felt an immense amount of pressure," he later admitted to People. "There is a set schedule, and The Bachelor ends on this day, and this is the day to propose. I felt like I needed more time. I wasn't 100 percent sure."
"We sat down and said if this show is really going to stick around and have longevity, people need to really be serious, like I'm looking for really, for lack of a better word, a husband or wife," Mills said. "So then that sort of came to be, 'Well, it's got to be a ring."
But as the break-up rate suggests, a ring doesn't often doesn't lead to happily ever after, with many couples later acknowledging the pressure to get married and live up to the public's expectations factored into their eventual splits.
And then Colton Underwood, the most recent Bachelor, jumped a fence and changed everything once again.
After Cassie Randolph eliminated herself from the show during the fantasy suite episodes–admitting she wasn't ready to get engaged and wasn't 100 percent "confident" Colton was the one for her–Colton went rogue.
Colton declared she was his final choice and that he didn't want to lose her, saying, "At the end of this, if I see a better future with you and I want to spend the rest of my life with you and our relationship isn't ready for an engagement, it's not ready for an engagement. It's OK to take your time. I care for you, I love you, I want it to be you at the end of this, engagement or not."
After she still chose to leave, Colton said he was "done" with the show and performing the now-iconic fence jump getaway from production.
Of course, Colton eventually returned and broke up with the remaining two contestants before making one last ditch attempt to win Cassie over, without the pressure of the show or a proposal.
By the live After the Final Rose special, Colton and Cassie were dating and "in love," but not living together and some casual conversations about a proposal had gone down, but nothing official. Almost six months later, they still aren't engaged, but they're still together and seemingly happier than ever.
Sounds shockingly normal for two twenty-somethings, right?
"Now, like with everything with The Bachelor, you realize you need to evolve the show," Mills said of Colton setting a new standard for what makes a happy ending on the show, "and I think that realizing as long as Colton is serious, and he was clearly serious as we saw with his actions, that doesn't mean he has to propose at all. No matter how it ended for him, this guy was serious."
It was something Mills picked up on during his first season working on the show in 2006, when then-lead Lorenzo Borghese didn't propose to Jennifer Wilson, but said he wanted to keep dating her.
"It was sort of similar to Colton's situation, but it felt really hollow," he said. "The finale aired and they broke up two weeks later and then there was this pattern of that."
For Mills, it all comes down to the casting of the lead and how serious they are about finding love, not just getting engaged to fulfill a job requirement.
"We fell in love with Hannah the same way you did and everyone else did, there's certainly a level of failure on our parts that we didn't necessarily give her the happy ending that she thought it was going to be," he said, "although we're thrilled with how it all turned out and I think she is too. You don't necessarily want it to have to happen the right way."
Rather than watch the season play out the way it typically does—girl meets 25 boys, really connects for four of them, finally gets engaged to one of them, ends the season with a ring on her finger, lather, rinse, repeat—viewers instead witnessed a coming-of-age story no one was anticipating.
Many were left doubting producers' decision to make Hannah their next Bachelorette after her time on Colton's season, which included her infamous inability to deliver a speech on her first one-on-one date, a sort-of feud with pageant frenemy Caelynn Miller-Keyes and only making it to the Top 6. Her tongue-tied appearance on Colton's After the Final Rose special didn't exactly instill confidence either. "It was a total trainwreck," Harrison later admitted to us of the live outing.
But then Hannah's season premiered and she proved herself to be poised, stubborn, goofy, pissed off, articulate, emotional, independent, insecure and messy. Oh, and she f–ked in a windmill. Four times.
Basically, she was real and figuring out s–t as she went, including the frustrating Luke Parker of it all, which resulted in one of the franchise's most infamous break-ups ever after he tried to sex-shame her.
"If you'd put all these guys in a real-world situation, I think she actually would've ended up with Luke P.," Mills theorized. "And what was so great about this is was she realized I want better than that and with Jed, too."
Through her Bachelorette journey, however, Hannah was able to find confidence and strength, owning her sexuality in a groundbreaking way in the process.
"I think a lot of that came from being really insecure about being the Bachelorette in the first place," she said at the Men Tell All special when asked why she kept Luke around so long despite him being a human red flag. "I remember when I got the call from you, I was so excited, but also I had this doubt of, oh my gosh, like, are the guys gonna be disappointed? And, am I going to be able to live up to this standard that I thought I had to live up to?"
While she called Jed's betrayal "heartbreaking," Hannah refused to let him or the way her engagement ended define her journey of self-discovery.
"I'm really proud of myself because in the past I've been in relationships where there wasn't always trust and there wasn't always honesty and I'd stick with that, and I'd want and need a man, but then I would forfeit my happiness," she said. "I have realized that I don't need a husband. I want a husband, I don't need one, and I'm really, really proud of the woman I've become through all this because I am hella strong."
So strong in fact that Mills said he would put Hannah on the Mount Rushmore of Bachelorettes, one of the all-time greats.
"She was insecure, she was vulnerable, she was ashamed, she admitted all that. That's empowering, and I want my daughter to realize, I want other women and men to realize empowerment doesn't mean you're always the best, it doesn't mean you're always the strong one, it doesn't mean you're always a badass and you're always perfect," Harrison told E! News at the Men Tell All taping. "That's not empowerment. I think there's this weird misconception right now about empowerment. Empowerment comes from being vulnerable, it comes from being weak, it comes from owning that, getting up when you've been knocked down, wiping up the dust and moving on. That's Hannah. That's the definition of Hannah, and that's why I love her, and that's why I'm proud of her."
Same, Harrison. Same.
Don't miss E! News every weeknight at 7, only on E!