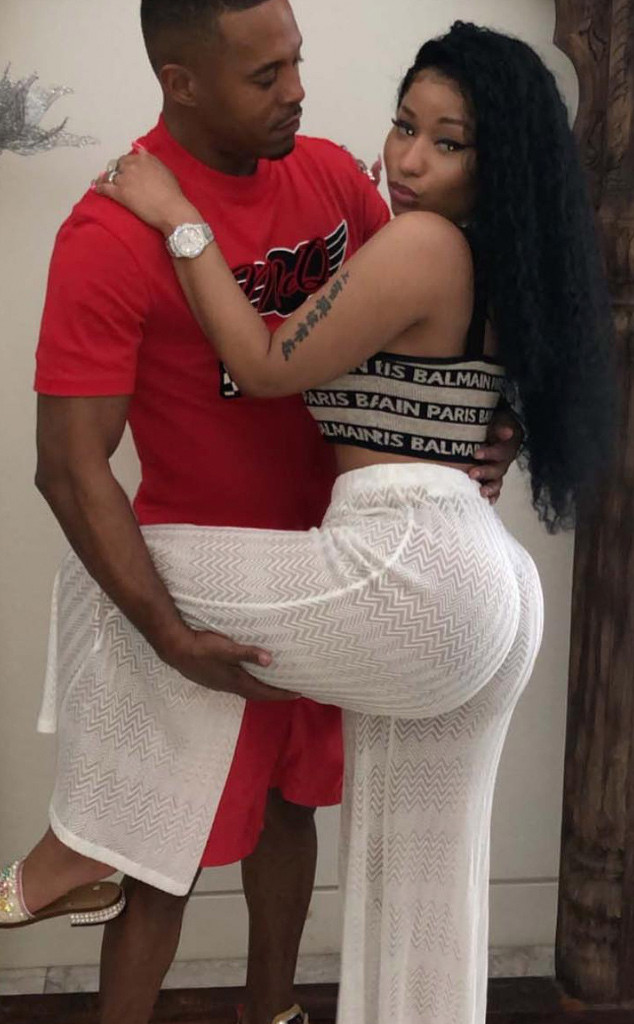 Instagram
Nicki Minaj is feeling a forever with love Kenneth Petty.
The duo, who made their relationship Instagram official in December, officially got a marriage license at the Beverly Hills Courthouse on Monday, a source confirms to E! News. The news comes one month after Minaj announced on her Queen Radio show that they had already gotten one.
And, because a marriage license is good for up to 90 days, expect to see a wedding sometime soon.
"I think I have what I was striving for, just happiness," the 36-year-old has confessed. "It was so hard to get to a happy place. Now that I'm there, I don't want to compromise that for anyone or anything."
Back in March, on another episode of her Beats1 show, the rapper cheekily referred to Petty as her husband. "Every night when I get out of the shower, my husband takes this really good lotion that we just bought and he massages my feet and rubs them," the 00-year-old said. "He rubs each toe individually, and the heel and the ball of my foot—he does it all."
Including, uh, pleasing her. From the get go, the candid "Anaconda" rapper has been open about their relationship, even the TMI aspects. Asked by a fan how many times they have sex a night, she swiftly responds, "3-4 on average."
And, it seems as if marriage has always been on their minds. In December, she made a reference to possible vows on Instagram, captioning a series of cuddly pictures. "He want me to be his wife- his MISSIS like SIPPI NOW." The following month, she tweeted that they "already chose" baby names for their future offspring.
"He's like the male version of my bff TT," Minaj wrote in a follow-up tweet, explaining that their relationship goes far back. "They both can make me calm with one look, hug, word. I tell them both all the time. My peace. Cuz they knew me since I was a kid so they understand me in a diff way I guess. Him & TT used to hate each other when we was younger tho lol."
Now, they're forever inked on each other's hearts—and his neck. In December, Minaj revealed that he had gotten her named tattooed in large letters on his body.
Still, he proves to be quite the controversial pick for the artist. Petty is a registered sex offender in New York and has reportedly been convicted of attempted rape. According to TMZ, he spent four years state prison and in 2006 was sentenced to 10 years in prison after pleading guilty to first-degree manslaughter.
Not that Minaj is going to let the negativity weigh her down. "Go awf Internet," she wrote when news of his past surfaced. "Y'all can't run my life. Y'all can't even run y'all own life. Thank you boo."
Here's to a happily ever after for the bride and groom to be!