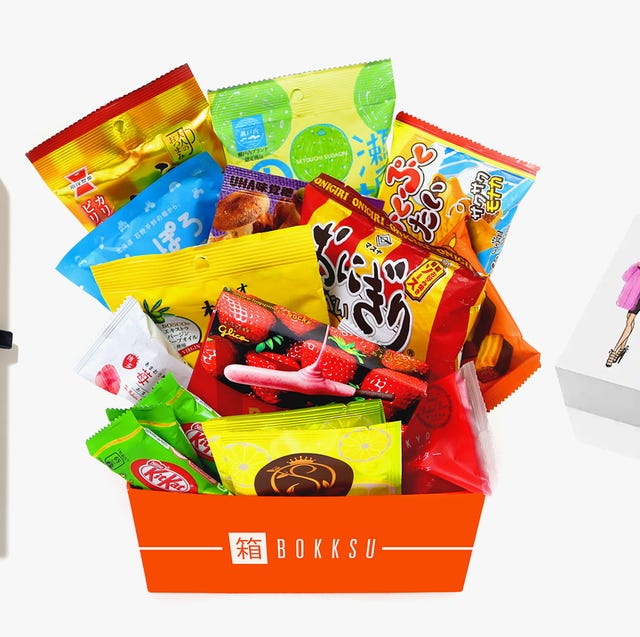 Courtesy
Be smart this holiday season and give the gift that keeps on giving, literally. A monthly subscription will continue to surprise your lucky giftee with thoughtfully curated boxes (and zero effort on your part.) What's not to love? We rounded up the top picks of the year, including the OG beauty box, an Amazon pick of tasty Japanese snacks, and more clever subscription boxes for everyone on your list.
Advertisement – Continue Reading Below
For the Amateur Sommelier
Blue Apron
Wine Box
blueapron.com
$10.00
Blue Apron is known for their meal delivery service, but did you know they had a wine club too? Skip the liquor store and let your giftee sit back and relax with a trifecta of wines delivered monthly.
For Beauty Insiders
Birchbox
The OG beauty box is still going strong. Give your BFF her share of full and travel-sized products to test out, helping end her search for the perfect mascara.
For the Constant Snacker
Authentic Japanese Snack & Candy Subscription
Are they tired of Hot Cheetos? Well, probably not. But this box gives an edit of unexpected Japanese snacks, like green tea Kit Kats (which are arguably better than the regular chocolate one). 
For the Stylish Kiddo
Kids Box
Stitch Fix
stitchfix.com
$8.00
Stitch Fix isn't technically a subscription box, but a personalized edit of items for your giftee to try. Whatever they don't want, they can send back and you only pay for their faves. They recently introduced children's clothes, which means your favorite niece or nephew is about to be the most stylish kid in school.  
For the Style Fiend
Box of Style
Box of Style
boxofstyle.com
$99.99
Rachel Zoe's subscription box offers not only a keen edit of clothes and accessories, but also top beauty brands like Oribe, Missoni, and elevated home goods, too.
For the Horticulturist
House Plant Box
Cratejoy
cratejoy.com
$12.00
This box is great for budding plant parents. Every month they'll receive a plant or plant-related item (like plant fertilizer, planters, or display stands) to help encourage their green thumb. 
For the Self-Care Guru
Handpicked Korean Sheet Masks Subscription Box
FaceTory
amazon.com
$8.90
If they're all about self-care, this box will make them very happy. Priced super low at $9 a month, they'll receive a fun edit of Korean sheet masks that will turn Sunday scaries into #selfcaresunday. 
For the Mega Fan
Loot Crate
Lootcrate
lootcrate.com
$17.99
Know someone obsessed with Harry Potter, Fallout, Star Wars, or anything with a fan base? Well, Lootcrate has all their sci-fi and gaming needs covered. 
For the Fragrance Nerd
Frangrance Subscription Box
Scentbird
scentbird.com
$450.00
There's no need to invest in an expensive fragrance if they haven't found their signature scent yet. This box sends 3 mini spray bottles so they can experiment with their olfactory senses until they find the one. 
For Dog Lovers (Who Love a Good Pun)
Barkbox
Barkbox
barkbox.com
$21.00
Your pooch deserves some love, too. What better way to say 'I ruff you' than with a box filled with doggy snacks and toys, themed with a tongue-in-cheek names like "Dogsmas in the City."
For the Audiophile
Monthly Vinyl Subscription
Vinyl Me PLease
vinylmeplease.com
$150.00
It can be stressful to send your Sppotify playlist to your music-loving friend, but Vinyl Me Please takes the anxiety away with this monthly subscription. They'll receive an exclusive record a month, like a hot pink vinyl from their new favorite band. 
For the Well-Dressed Man
Tie Subscription Club
The Tie Bar
thetiebar.com
$199.00
A tie is a classic gift, but why not gift them one year-round? They also offer curated gift boxes like this one, which includes all the accessories that maketh a man. 
For the Chef on a Budget
Purple Carrot
Purple Carrot
purplecarrot.com
$71.94
Eating vegan can be a challenge, but Purple Carrot makes it less intimidating to cook elaborate meals at home.  It's an even greater gift if they invite you to dine with them, too. 
For the Runner
The Runner Box
The Runner Box
therunnerbox.com
$30.00
Marathoners are a special breed, so they will appreciate this considerate gift. Each box includes 11-14 hand-picked items tested by their team of athletes, like that weird energy gel runners eat mid-race. 
For the Do-Gooder
Globein Box
Globein
globein.com
$43.00
Fair trade products make for guilt-free gifting, and everything from Globein comes with a story. Their products are made by traditional artisans all over the world, supporting industries from India and Mexico. 
Advertisement – Continue Reading Below