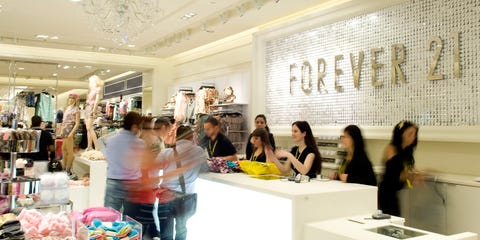 Robert MarquardtGetty Images
Forever 21 customers who ordered clothes online this week were furious to find something extra in their packages: Atkins bars. The fast fashion retailer has come under fire for sending the diet bars to its customers—most of whom were shopping the brand's plus-size offerings—as a "special promotion."
Unimpressed customers took to Twitter to share photos of the unsolicited Atkins bar sample that came with their online orders.
One Twitter user called Forever 21's offering a "wildly dangerous message" to send to its customers, adding, "Not only is it fat-shaming, it could also trigger people of all sizes who have EDs."
Another called the brand's move "fat-phobic, insensitive, and harmful to everyone involved."
Forever 21 responded with a statement, writing, "From time to time, Forever 21 surprises our customers with free test products from third parties in their e-commerce orders. The freebie items in question were included in all online orders, across all sizes and categories, for a limited time and have since been removed. This was an oversight on our part and we sincerely apologize for any offense this may have caused to our customers, as this was not our intention in any way."
Though the brand claims the Atkins bars were sent to customers "across all sizes," the oversight remains a dangerous one for women of any size. Sending unsolicited diet bars to anyone could be a trigger for body dysmorphia and eating disorders, and all brands—especially those that target young women—should be aware of this. There is no room for "oversights" like this from fashion brands anymore.