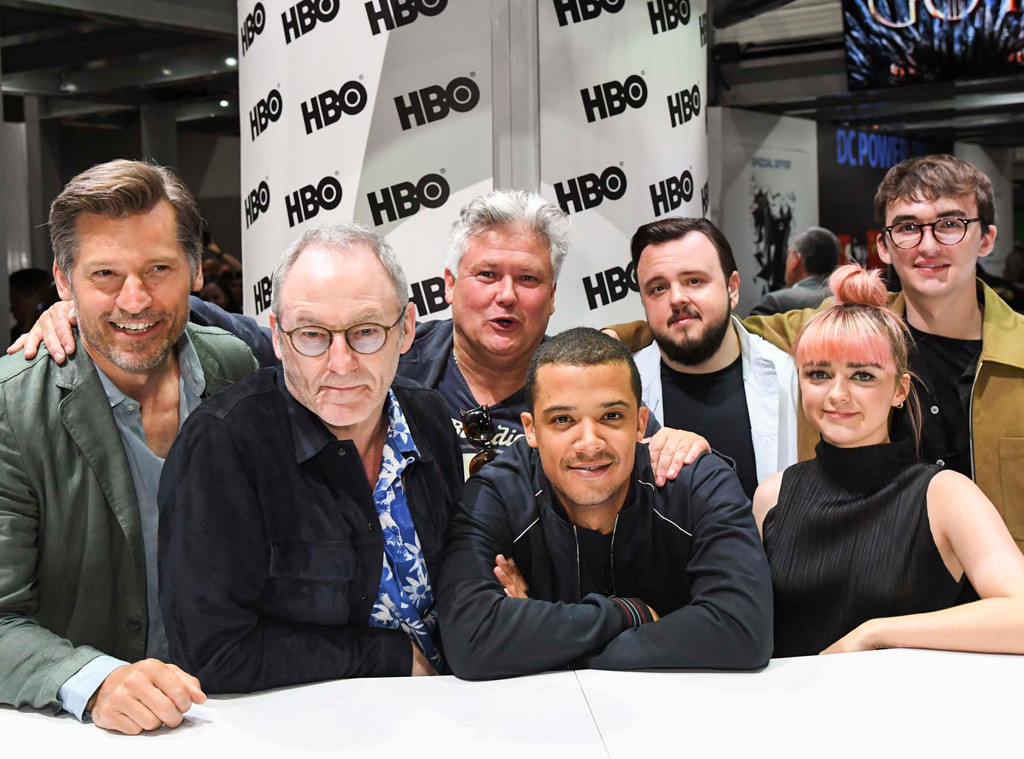 Jeff Kravitz/FilmMagic for HBO
Consider the Game of Thrones cast perfectly unbothered by all of the criticism surrounding the eighth and final season.
In what marked their final appearance at Comic-Con, several stars from the HBO series gathered Friday to reminisce on all that's transpired in the years they spent captivating the pop culture world.
Nikolaj Coster-Waldau (Jaime Lannister), Maisie Williams (Arya Stark), Isaac Hempstead Wright (Bran Stark), Jacob Anderson (Grey Worm), John Bradley (Samwell Tarly), Liam Cunningham (Davos Seaworth) and Conleth Hill (Varys) all participated in the hotly-anticipated panel, which delved into the swift backlash felt following GoT's series finale.
According to Variety, Hill joked about starting the petition signed by fans demanding HBO remake Season 8, before adding, "We're very grateful for your fandom over the years and I think this is the reality rather than a media-led hate campaign."
Coster-Waldau added, "If it comes to an end, it's gonna piss you off no matter what because it's the end. If you hated the ending, if you loved the ending, that's great, just don't call people names."
The actor also defended his character's demise, telling those in attendance, "I thought it was perfect for him to end in the arms of Cersei. It made sense to me, that's just my opinion."
After addressing the critics, the cast riffed on their most cherished memories from filming, what they'll miss most about GoT and where they think their characters ended up after all was said and done in Westeros.
"I'm sure she's having a wonderful time," Maisie quipped of Arya. "She's like Dora the explorer with her new bob."
Added Isaac, "To all intent and purposes, Westeros is now a surveillance state with Bran being aware of all that people are doing."
Earlier this week, it was announced that Game of Thrones swept the 2019 Emmy nominations with a record-breaking 32 nods.
Continue checking back to E! News for more around-the-clock coverage of Comic-Con!